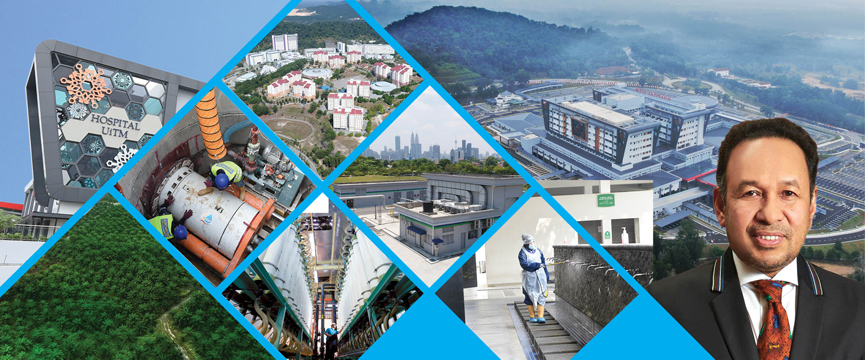 Dear guests,
Every one of us in Puncak Niaga Holdings Berhad are committed to move in line with the Group's vision to become a leading regional integrated water, wastewater and environmental solutions provider with involvement in concession and facilities management services, plantation and property development sectors.
Despite challenging years ahead, Puncak Niaga remains focus in building a stronger and more stable foundation for our existing as well as new businesses including to ensure our Group's long term growth and profitability.
Puncak Niaga remains committed to strengthening our business fundamentals and reinforcing our business resilience. Amidst a hugely challenging operating environment attributed to the unprecedented COVID-19 pandemic and a new normal post COVID-19, we are taking steps to solidify our position within our core business segments.
Our growth strategies continue to be supported by a dynamic organisational infrastructure as we remain focused on project execution and delivery. We have identified key drivers to ensure the Group's long-term sustainable growth into the future. With firm foundations in place, we will redefine our competitive edge and remain on course to achieve our vision and mission for future growth.
In view of the advancement of green technology that's becoming more crucial and relevant in maintaining sustainable living, we are keen and ready to provide environmental solutions services including the management of wastewater, solid waste and waste to energy. This further attests to our commitment in protecting and preserving the environment.
Upon the completion of the acquisition of TRIplc Berhad (TRIplc), we are moving forward to expand our capabilities and further enhance our expertise and skills in the construction sectors.
We are always guided by the Corporate Responsibility (CR) strategy that reflects in our Group's Vision, we will continue to increase shareholders' value and respond to societal needs by integrating CR into every aspect of our businesses. We shall be a steadfast and magnanimous corporate citizen that recognises and fulfils our responsibilities to our consumers, stakeholders and communities.
In support of Malaysia's progress towards excellence, we seek out and nurture talented and energetic employees in all key business areas; foster smart, forward-thinking innovation; and inculcate a culture of high performance and teamwork within our workforce.
Your time and interest is greatly appreciated, feel free to browse our website and view our latest initiatives.
Thank You.