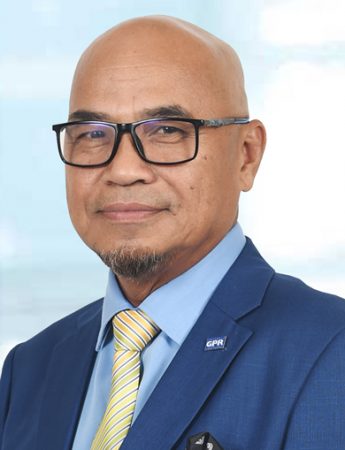 YBHG DATUK SR HAJI JOHARI BIN WAHAB
Independent Non-Executive Director
Aged 58, Male, Malaysian
YBhg Datuk Sr Haji Johari Wahab was appointed to the Board of Puncak Niaga on 10 February 2020 as an Independent Non-Executive Director. He is a member of Puncak Niaga's Audit Committee, Nomination Committee, Remuneration Committee and Compliance, Internal Control and Risk Policy Committee.
YBhg Datuk Sr Haji Johari graduated with an Honours Degree in Land Surveying from University of Technology Malaysia in 1988. He has more than 30 years' experience in all types of surveying works such as underground utility detection and mapping, cadastral survey, construction survey, engineering survey and oil and gas industry.
He has gained vast experience as a land surveyor since 1988 when he started his career with Geotex Surveyor PTD before moving on to Projass Engineering Sdn Bhd and Ranhill Engineers & Constructors Sdn Bhd. YBhg Datuk Sr Haji Johari left Ranhill Engineers & Constructors Sdn Bhd to establish his own company known as AJ Surveyors & Engineering until AJ Surveyors was registered as a Land Surveyor firm with Lembaga Jurukur Tanah Malaysia in November 2011. YBhg Datuk Sr Haji Johari is the Principal of AJ Surveyors.
YBhg Datuk Sr Haji Johari is a Board Member of Land Surveyors Board Malaysia, a President of Association of Competent Utility Mappers Malaysia ("UWAP Malaysia") for 2021/2023 session, a member and sits on the Executive Council of the Association of Authorised Land Surveyors Malaysia (PEJUTA), Chairman of the Geomatic & Land Surveying Division and Fellow of the Royal Institution of Surveyors Malaysia (RISM). He is a member of Koperasi Jurukur Tanah Berlesen Berhad (KOJUTA), Institute of Corporate Directors Malaysia (ICDM) and Board Studies of School of Computing, University Utara Malaysia for new postgraduate programme, Master of Science (Geometries for Disaster Risk Reduction – GeoDRR).
YBhg Datuk Sr Haji Johari was previously the Co-Chairman of the International Conference Geomatic & Geospatial Technology 2017-2018 (GGT 2017, GGT 2018, GGT 2019 & GGT 2021), Chairman of the Organising Committee for Subsurface Asset Management & Surveying Seminar 2017 (SAM'S 17 & SAM'S 18) and Chairman of Seminar Geomatik Kebangsaan 2021.