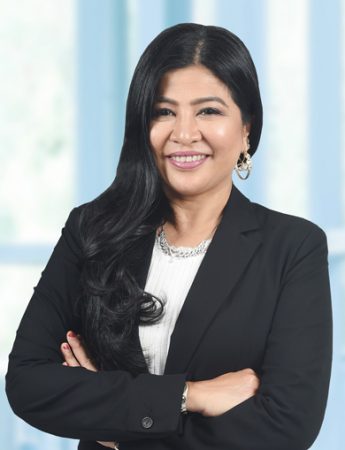 YM TENGKU LORETA TENGKU DATO' SETIA RAMLI ALHAJ
Independent Non-Executive Director
Aged 49, Female, Malaysian
YM Tengku Loreta Tengku Dato' Setia Ramli Alhaj was appointed to the Board of Puncak Niaga on 10 February 2020 as an Independent Non-Executive Director. She is a member of Puncak Niaga's Audit Committee, Nomination Committee, Remuneration Committee and Compliance, Internal Control and Risk Policy Committee.
YM Tengku Loreta graduated with a Bachelor of Arts Degree in Communications Studies from Western Michigan University, United States of America (USA). Notably, she was also on the Dean's List 1995 School of Communications with a minor in Philosophy. YM Tengku Loreta later obtained a Master of Arts in Telecommunication Management from Ohio University, USA.
Starting her career in 1998 with MEASAT Broadcast Network System Sdn. Bhd. as a broadcast journalist, she then joined Kontena Nasional in June 2010, driving the Business Development Unit in the CEO's Office. YM Tengku Loreta subsequently pursued her passion in sustainability by venturing into the government sector. She was a former Special Officer to the Group CEO of Malaysian Green Technology Corporation (MGTC) (September 2014 to April 2017) and represented Malaysia at the EXPO 2017 in Astana, Khazakhstan (April 2017 to September 2017) as the Head of Protocol & Public Relations for the Malaysian Pavillion. After MGTC, YM Tengku Loreta returned to the private sector where she managed large scale renewable energy projects.
With over 22 years of diverse experience covering both the private and public sector, she brings strong business leadership, partnerships, and industry expertise particularly in the field of sustainability and renewable energy.
A strong champion of social and environmental sustainability, YM Tengku Loreta has been an active campaigner, president and member with honorary positions in numerous charitable organizations. She was an active member of Soroptimist International Club of Ampang from 2004 to 2008 before she was elected the President of the Club (2008 to 2010). YM Tengku Loreta is also a lifetime member of Rumah Amal Cahaya Tengku Ampuan Rahimah (RACTAR). During her tenure at MGTC, she successfully launched the #MyButterflyEffect campaign, where every social media post supporting green growth during the EXPO 2017 in Astana would be matched with more solar panels by the Government.
In 2019, YM Tengku Loreta founded and officially launched MySayang Malaysia Organization, a Non-Government Organization that focuses on green initiatives in Malaysia as part of an effort to make Malaysia a more environmentally sustainable country.
YM Tengku Loreta is a member of Institute of Corporate Directors Malaysia (ICDM) and a member of Malaysian Green Technology and Climate Change Center (formerly known as Malaysian Green Technology Corporation) (MGTC).